Special Fiber Array Assembly
PM Fiber Array Assembly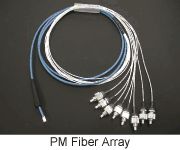 Kohoku's original capillary molding process enables the manufacture of Polarization Maintaining fiber arrays with higher reliability and less stress.
Key features
Combinations of SM and PM fibers are available.
Different PM configurations are available.
Assemblies with different connectors are available.
Applications
Telecommunications, Biomedical devices, Lasers, Sensors, Aero-space devices, etc.
Specifications
| | |
| --- | --- |
| PM Configuration | Parallel, T type, V type etc. |
| Extinction Ratio | over 25dB |
| Core Pitch | any specs upon request |
| Pitch Accuracy | any specs upon request (1μm - 5 μm) |

Specialty Products
Zirconia ferrule with SUS sleeve: Stainless sleeve for YAG welding.
Au plated optical fiber for hermetic sealing.
Hermetically sealed fiber array.
AR coating (980nm - 1550nm).
Fiber Array with TEC Fiber.